15 Best Instagram meme accounts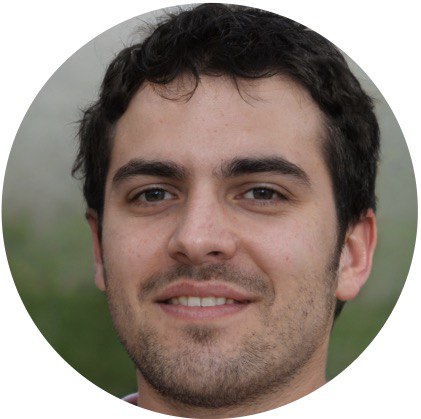 The simplest definition for an Instagram meme account is "A funny picture, video, or phrase that people can share on the Internet." Nowadays, the Instagram platform is the best tool for your better mood. Memes on Instagram are so popular that many people create Instagram memes accounts not only to improve your mood and feelings but also to make money on Instagram. It is quite the right way, isn't it?
Why are Instagram meme accounts so popular today?
The first thing is the immersive content. It is an easy way to get great satisfaction and a better mood. Just scroll the amusing profile, about 1 minute of view, and that's all! A smile is guaranteed for you and maybe a "like" for a post.
The second is that the majority of popular memes are aimed at the Millennials audience, a massive part of the world population. So, popularity is gaining rapidly.
The third thing is that a post of memes is a universal sharing of experiences. The humor and nostalgia are two components that connect people. Meme sharing with your friend is a way to remind you of the good things or the things that you have experienced together.
Finally, money. More recently, people did not think that this social platform could be the primary source of income. Now it is becoming more and more common. Influential people and page administrators can earn millions of dollars from advertising and promotion on their meme´s post. A like plus another like, etc. and, as the result, the popularity of the account is growing in front of the eye! 
Let's look at the best meme accounts
1. 9gag. 54.2 million followers
"9GAG: Go Fun the World" is the first to see when opening this funny Instagram meme account. The meme account started his life in 2008 due to a small and fun project with the help of the co-founder Ray Chan in Hong Kong. At that time, Hong Kong people did not use Facebook, so the meme account in Instagram started to gain more popularity. According to Ray Chan, the memes are full of rage comics content, but the meme's creators do not make anger but show it in a funny frame.
2. Memezar. 21.2 million followers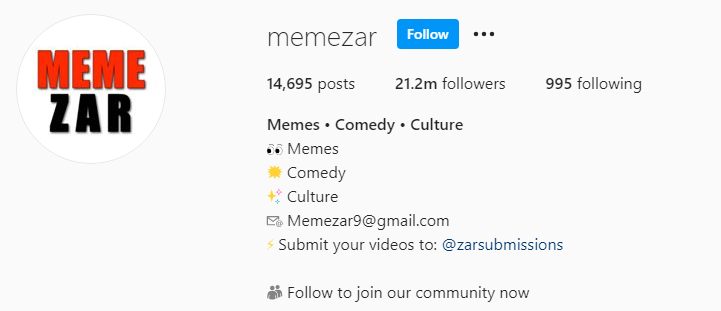 The account is full of different content memes that sometimes are very rude and offensive. The content includes funny video clips, episodes from various movies with witty captions, and culture content. Let me name it as the account of grim humor. Memezar is a private account, so you have to request access, and only after acceptance can you enjoy and observe its content, but it's one minute's work.
3. Daquan. 15.6 million followers

The well-known icons and social media persons such as Drake, The Weeknd, Kevin Hart, etc. are just a small part of followers of this funny meme Instagram account. So, what is the reason for such popularity of one of the meme accounts? Dakwan is a fictional character that has become an icon of pop- culture in social media. The founder, the most amusing Instagram meme pages, remainы unknown, but some sources tell us that he is a 23-year-old producer of content from Canada. He did not expect to get popularity, but his screenshots memes about family life, sports events, especially basketball, and other joking content.
4. Fuckjerry. 15.5 million followers

The primary audience and followers are Homelanders, who are interested in pop culture.The history of Fuckjerry started in 2011 when the first Instagram account was created by Elliot Tebele. Nowadays, the company known as Jerry Media is the result of the account work. The company is known as the developer of the What Do You Meme game and JAJA Tequila. It also has a Jerry News account.
5. Sarcasm_only. 15.2 million followers

Quite a feminist page at first glance, but it is not so; there is a male contingent too, who is interested in a typical female problem. So, an excellent chance to understand each other better in this controversial world. Stresses, household problems, work-related and daily problems, and women's inner feelings are the prominent meme's content that attracts millions of followers. Say even more: the fans and followers created boards on Pinterest, where you can laugh at the best memes Instagram.
6. HoodClips. 11.3 million followers

Amusing, funny, strange, sometimes even inexplicable videos about African – American culture. In 2019 this Instagram memes profile was nominated as the most comic page on Instagram. The content is refreshed every day, which attracts more followers.
7. TheFatJewish. 10.8 million followers

The base of one of the most extraordinary memes is created by Joshua Ostrovsky, a co-founder of TheFatJewish account. He is well known on social media as usually scandal fat jew and nude one on his memes. His first funny memes were created in 2013. It was a video about his exercise training bike class of homeless Manhattan people.
8. Ladbible. 9.8 million followers

The publication and memes are so popular not only on Instagram but also on facebook. This memes account is the opposite of a female Sarcasm_only account. The joke and memes are about sports, male problems, car and drinking themes, and relationships with girls. The primary audience is the young one.
9. Imao. 8.9 million followers

Laughing My Ass Off (or LMAO) is a classical video meme profile that can live up to its name. Among meme accounts, this profile is full of jokes about everyday people's lives. Simple, easy to understand humor will not leave you indifferent.
10. barstoolsports. 8.8 million followers

Do you want to relax with daily situations memes? I think- yes, so, let's follow the Barstool Sports with epic and amusing situations even from your everyday life. Caution! The videos are often too joking.
11. pikavids. 5.5 million followers

How about delightful animals? It is the right place to enjoy friendly animal content that will make you smile.
12. Whitepeoplehumor. 4.4 million followers

The extremely joking account was designed by Kevin Flynn to post fresh and old-school memes is the main aim of the best memer alive author, so let's follow the account in which you immerse yourself in a world of individual posts.
13. Kookslams. 1.5 million followers

Surfing, dogs, persons who fall off the boards are the main components of this meme content. "Curated kook slammage" will demonstrate to you the clumsy techniques of falling into the water, and it will not make you scared but smiling.
14. dyrak_of. 407k followers

One of the representatives of fool humor. But it is the stupidity of jokes that makes accounts so popular today. It does not indicate any degradation globally, but people sometimes just want to relax and think about nothing. Humor prolongs life!
15. Tunefullymusic. 352k followers

The meme account does not have a million followers, but I should mention it in this Top because it is an unusual way to improve your mood. The content is based on music set in funny videos, and as a result, it is even the funniest videos with amusing dances or memes.
The reason for blocked accounts
The popularity of memes as part of some modern youth culture has led to the emergence of a vast number of instagram meme accounts on the platform; thus, it is often "suspect" meme accounts of poaching the content of other people. Instagram administrate says that these accounts are blocked after their policy violations.
Memes in Stories
You can find not only the freshly posted content but also in profile Stories, but you should hurry up because there is the probability for you to run into Instagram deleted story due to the duration of Instagram Stories.
Meme posting
To post funny memes for Instagram meme accounts is quite a difficult case. You should follow a particular plan or strategy while creating and posting memes IG. Try to design your own unique meme style and don't copy the other memes because there is a profile with rights reserved content, so it will be illegal to copy and paste the other person's memes in your profile. Another thing is a public profile, not private, giving you more chances to get more interested followers. Don't get stuck on likes; just create something you like and adore.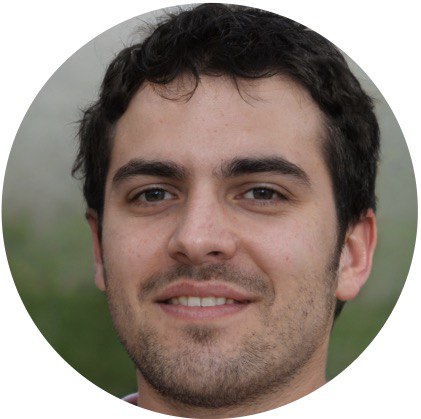 Written by
Alex