How to search for tags for Reels and make them go viral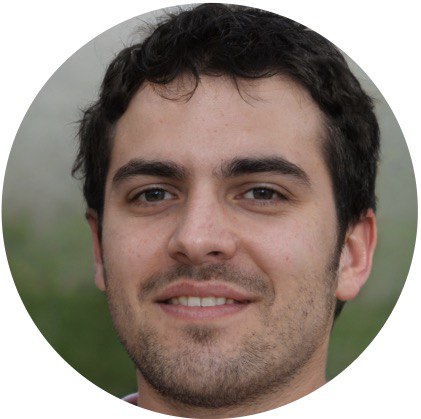 The competition in the social media market is huge. TikTok was not taken seriously at first, but the rapid popularity of the newcomer made the mastodons nervous. Instagram already had the IGTV format, but not all users liked it. Therefore, the social network has introduced a new service for video lovers – Reels. Let's figure out how this feature works, how to get into recommendations, and make videos go viral without much effort.
What are recommendations in Instagram Reels and how they work
The new section works on the principle of an endless tape. You can see the content of the authors to which you are subscribed, as well as recommended ones. If you liked the video, you can follow the creator. If you still don't understand how this new feature may be used, read more about Instagram Reels in our recent article. To expand the reach and attract a new audience to your profile, you ought to strive to get into the endless feed and into the regular Instagram recommendations. To do this, people add Instagram Reels hashtags to the description of uploaded files.
Getting into the recommendations is a way to attract new subscribers for free. It is much more difficult to promote on Instagram than on TikTok. Reels is one of the few ways to quickly gain subscribers legally and for free, without spending big budgets on advertising. When a new feature appears on Instagram, at first the social network actively promotes the authors who use it. With Reels, you can increase reach and engagement with content. Users subscribe to what they are interested in by choosing hashtags. How to find the most trending hashtags? You can use a free tool – Toolzu hashtag generator. And below we will tell you how to do it right and how to make Instagram Reels viral.
Three ways to generate perfect hashtags in seconds
The first thing you need to do is select the hashtag generator from the "Services" menu in the top right corner of the site. Here's what it looks like.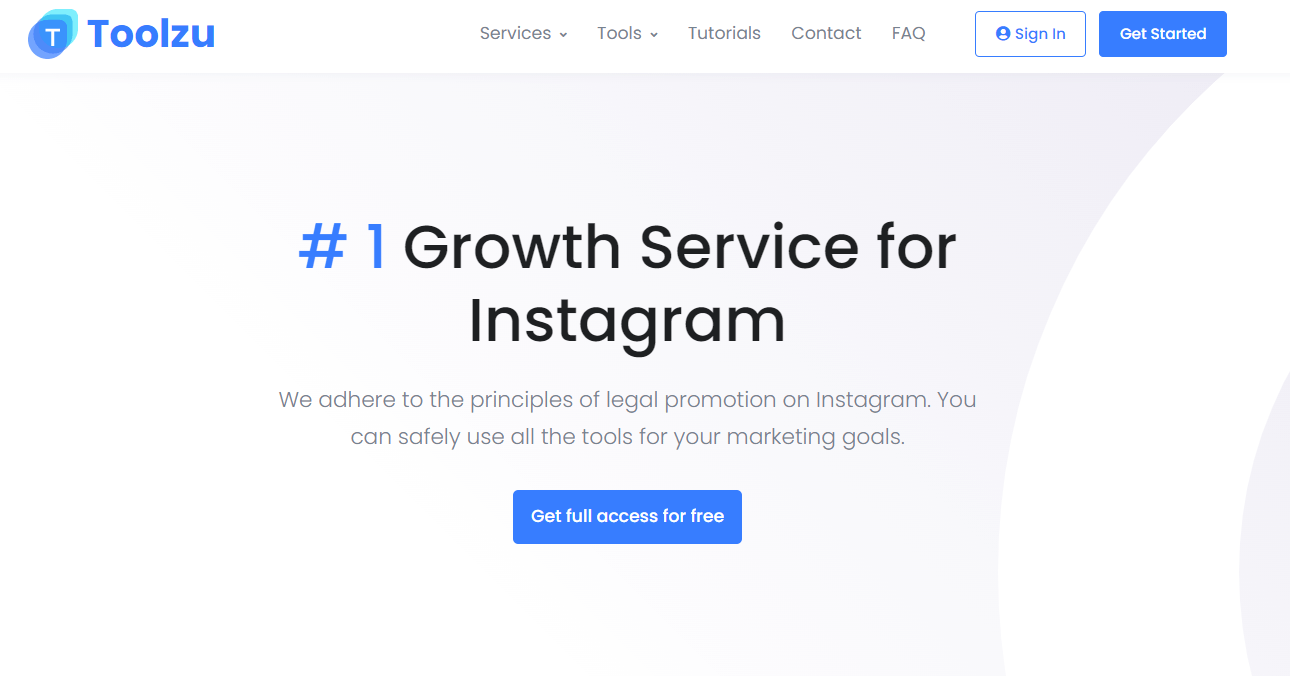 After that, you will see a welcome window. The creators of the resource did everything to make applying the generator very simple. There is only one button here. Nothing extra!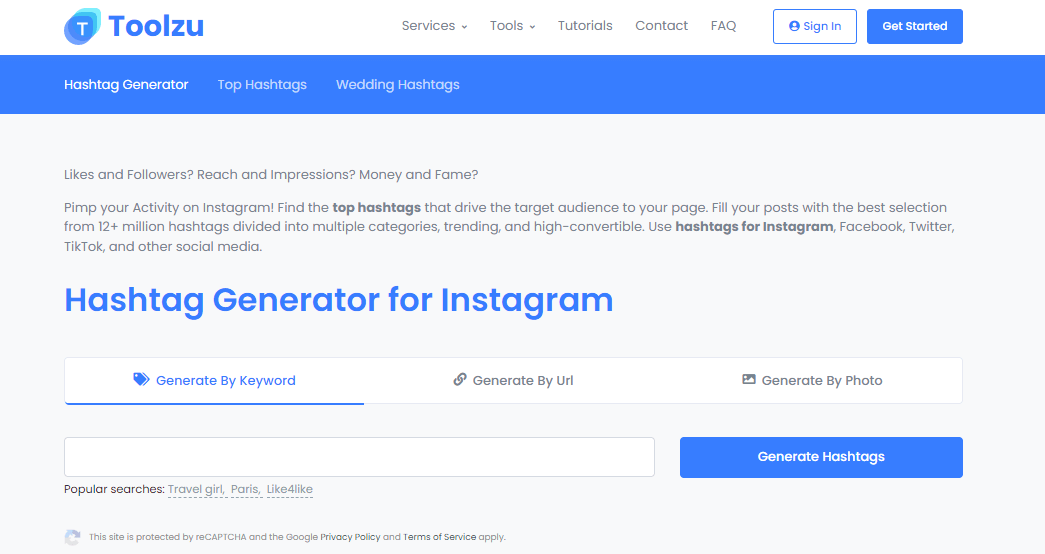 And now the most interesting. You have three ways to get the best hashtags for Instagram Reels. You need to select what suits you best and read a short instruction. Toolzu allows finding relevant tags by keyword or phrase, image, or URL link. Let's have a look into detail.
By keyword
For instance, to generate hashtags for Instagram Reels about Paris, type this word into the search bar and wait up to 30 seconds. See how it looks below.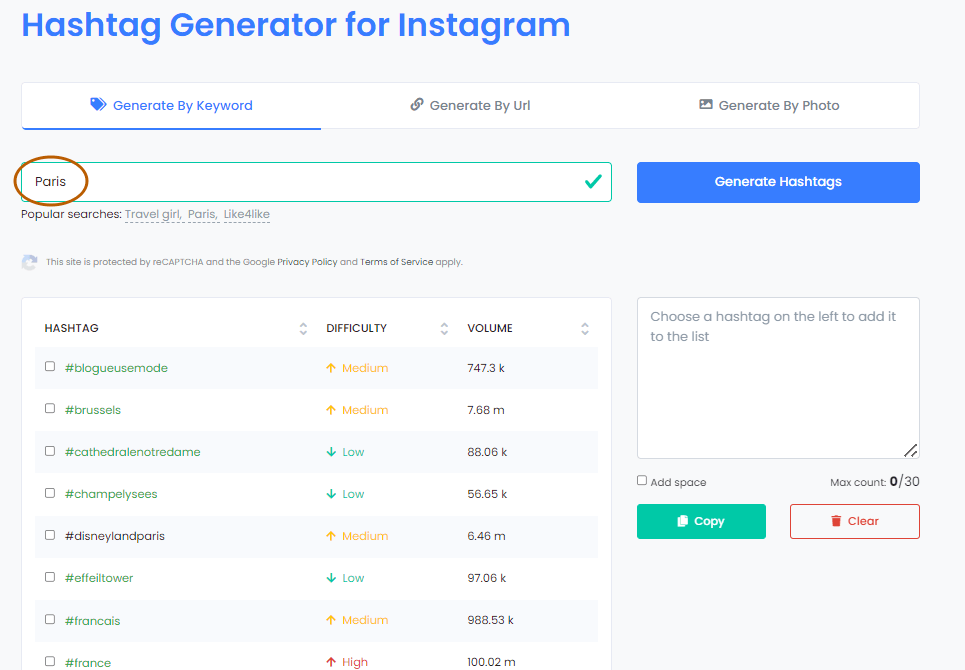 Wait a bit to get an impressive set of tags. The program will give you a lot of data, but you don't need all of it. Copy 4-6 high-frequency hashtags (over 1 million posts), 6-8 medium-frequency ones (from 100 thousand to 1 million), and 10-12 low-frequency ones (up to 100 posts). Just tick the one you like. The hashtags you need will be displayed in the window on the right, and you can simply copy them to the clipboard.
By image
Finding hashtags for reels on Instagram by picture is even easier. You don't even have to think about a word or phrase that maximizes the topic of the video. Just find a similar photo or even a screenshot from a clip and upload it to the site. Please note that only the JPG format is suitable.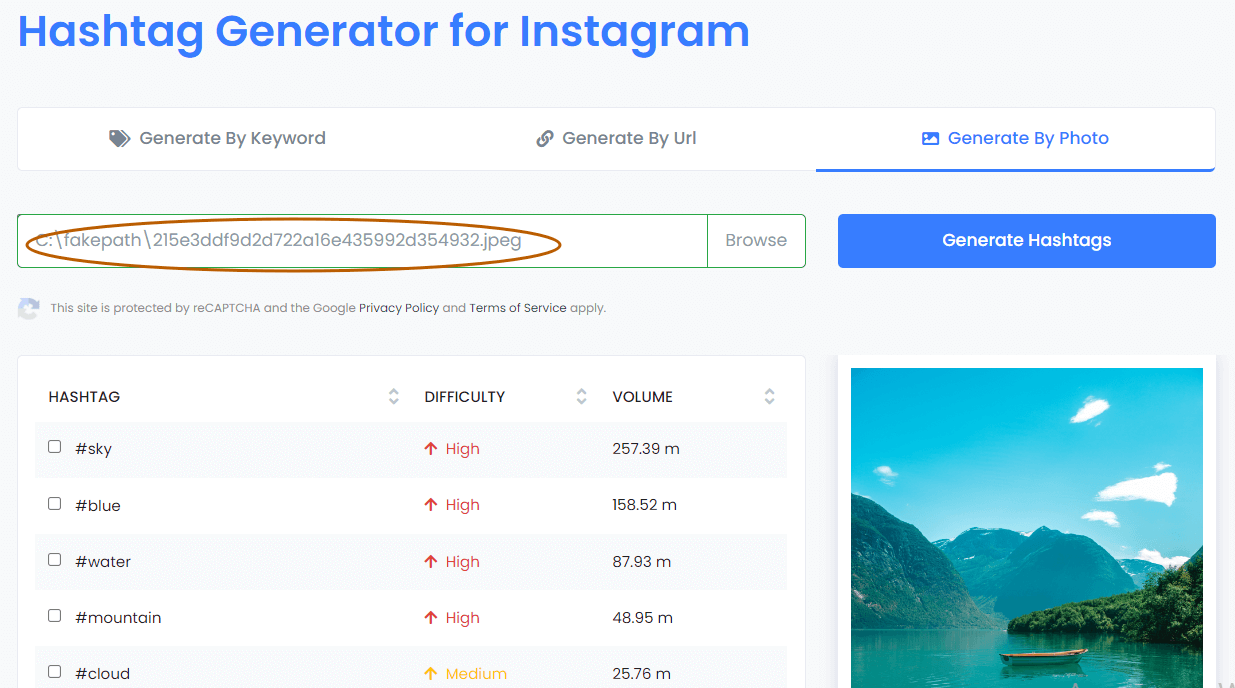 By link
If you have already posted a video on your website or blog, you can search for the best hashtags to go viral on Instagram Reels at the web address. Just search for the video you want on the web, copy the link in the address bar and paste it as-is into the search bar.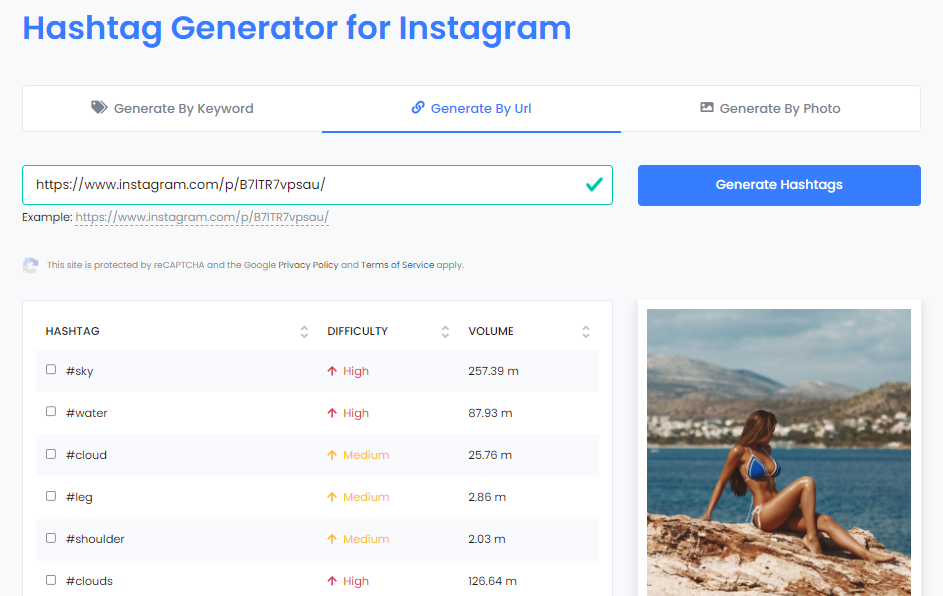 The principle of operation is the same in all three cases. It is necessary to give a basic element, a certain basis for the generator. It can be one or more words, a phrase, a picture, a screenshot from a video, a link. Based on this data, artificial intelligence will select the most trending hashtags for you.
It makes no sense to publish top hashtags for Instagram Reels in this piece. On the Internet, everything changes very quickly, so a new trend may appear in the process of publishing this article. It's better to check everything yourself. Moreover, it takes little time and is completely free. By the way, you can work in the browser on your computer or download the application on your smartphone (it is available both for Android on Play Market and iOS on AppStore). In our opinion, this is the most convenient hashtag maker. But you are free to try other options. We wrote earlier about the top there trending hashtag generators for Instagram on our blog.
The scheme of getting into Reels recommendations
There are only three simple tips. First, use an open account. If you have a private profile, the first thing to do is open it. Otherwise, Reels will not be included in the recommendations, and only your subscribers will be able to see them.
Secondly, be sure to add Reels hashtags for Instagram to get viral. Tags can be employed for a variety of purposes:
to get into the recommendations (it is better to use trend ones);
to divide Reels videos into categories;
for brand recognition (you need to come up with branded tags).
And the last, but not least. Be creative, come up with high-quality content. Shoot videos that will circulate on social networks. Make users share and comment on them. So the algorithms will understand that the clips are interesting to people and will promote them. Use popular soundtracks and follow the trends. If you don't have enough inspiration, look for it in the same TikTok, but just don't copy clips with the logo of this social network from there.
By following all these tips, you can become popular in the Reels. Most importantly, start now!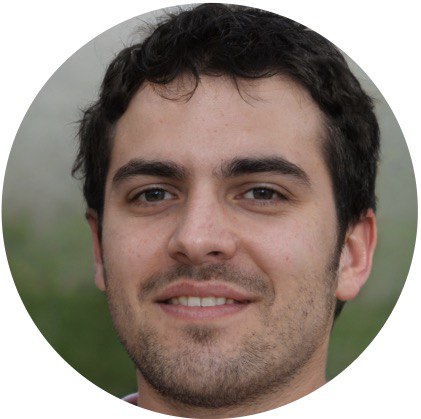 Written by
Alex