Top 3 Trending Hashtag Generators for Instagram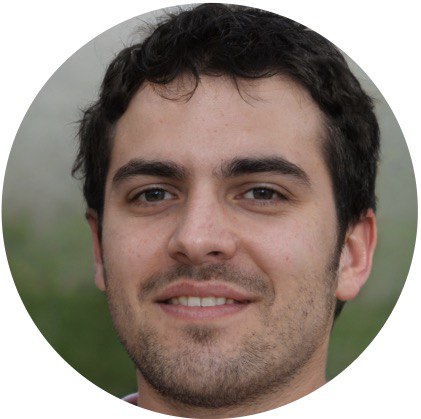 What is an Instagram Hashtag Generator Nowadays?
No IG post can be found through the search without using specific keywords in the caption. No professional Social Media Marketing manager picks up these words manually. We use an Instagram hashtag generator for this goal.
It is imperative for top Instagram marketers now. No successful and prospective promotional strategy can be implemented without a speedy and freshly-updated hashtag finding tool that can generate many keywords based on one.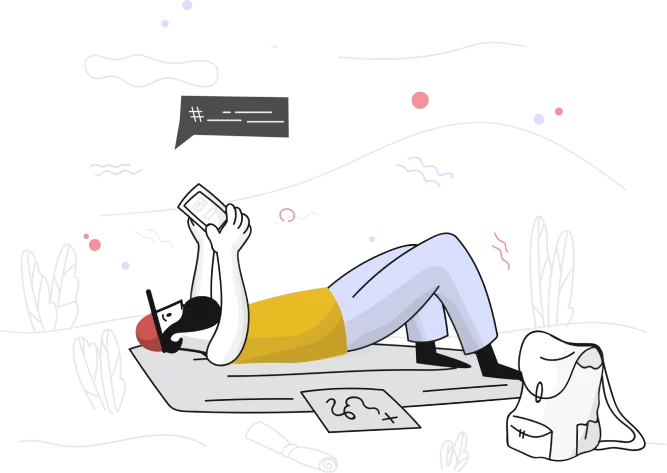 The only thing you need to know is how to choose the most effective and powerful one for your posts.
A top hashtag generator is one that consumes as little time as possible while bringing your posts the highest reach.
Here are a few simple and obvious base facts on the topic:
1. Hashtags are Vital for posts.
Every post that needs to be seen by a specific audience requires well-selected trending hashtags.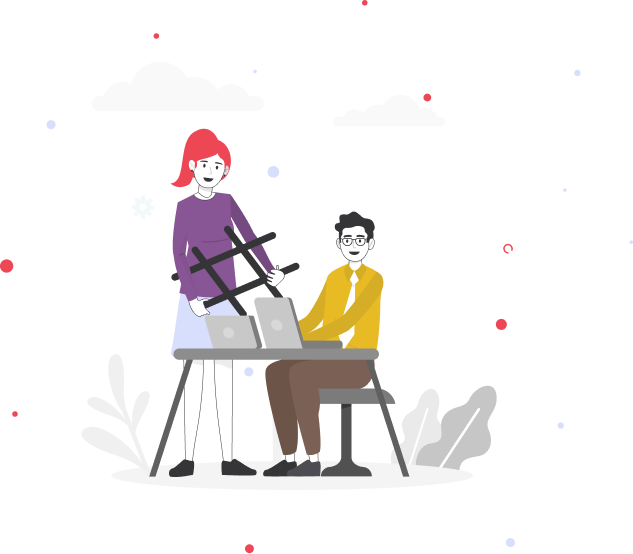 2. Grab the Best Words from a Generator Tool.
You can spend anything from a few minutes up to several hours on manual research of Instagram hashtags, copying from competitors, or picking up suitable top hashtags by yourself. But how can that compete with an ultra-fast 10-second accurate selection by Artificial Intelligence? In 2020 it is better to rely on services that are created for this, not on a manual waste of time. Especially when it comes to business accounts and influencer marketing. Just generate hashtags with a tool and use them: copy and paste. And after this you start to get likes and follows from new people, who are truly interested in your content.
3. Choose a Hashtag Tool that You Can Rely on.
Get into a service's history and feedback. Avoid those which violate Instagram's terms. Also pay attention to its freshness and how frequently it's updated, and also look at what mechanism is this this service based on. The more up-to-date it is, the more fresh and relevant words hashtags generator will offer you to use.
What budget do you get for the goal of hashtag marketing? Does your organization have an Social Media Marketing manager or are you going to promote Instagram by yourself? The best Instagram hashtags solution for you will be based on these facts.
I'm Going to Share My Top-3 Hashtag Finder List
We will look through the well-known and reliable services and tools to generate hashtags and judge them by these parameters:
Device Integrations
What devices can you use to generate hashtag through the tool? Does it have a mobile version, app, or just a desktop version?
Quality
What is the quality of keywords offered in the tool? Do the Instagram hashtag ideas or popular hashtag suggestions look suitable, modern, and effective? I'll browse the same photo and look through results of different generators for it to find the most effective among them.
Usability
Are there any additional convenient features like generating by photo or by link. Are there any other fixes that simplify the user's experience?
Price
#1 Toolzu
Let's start with my favorite from this list. The Toolzu popular hashtag suggestions seem the most effective to me. This service is updated regularly and looks advanced compared to others. It's based on Artificial Intelligence and picks up the most valuable keywords for your posts, grouping by the frequency of usage. I think this is the best hashtag generator for Instagram companies.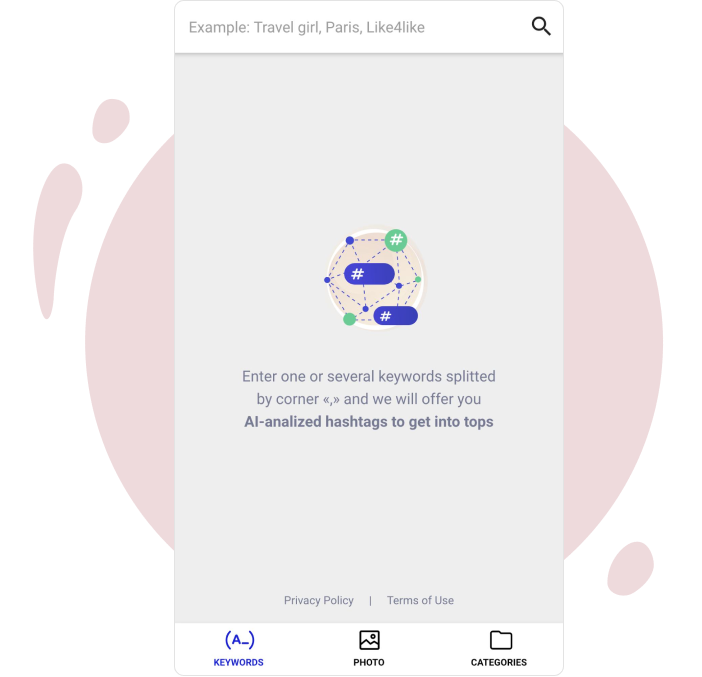 Device Integrations
You can get and use Toolzu both on desktop and smartphone. For desktop, it is a free tool and it has a convenient interface and some additional features, like wide statistics for each keyword. This is a unique feature to use for research – you can see popular posts for the specific word, its difficulty, and even the volume for this hashtag.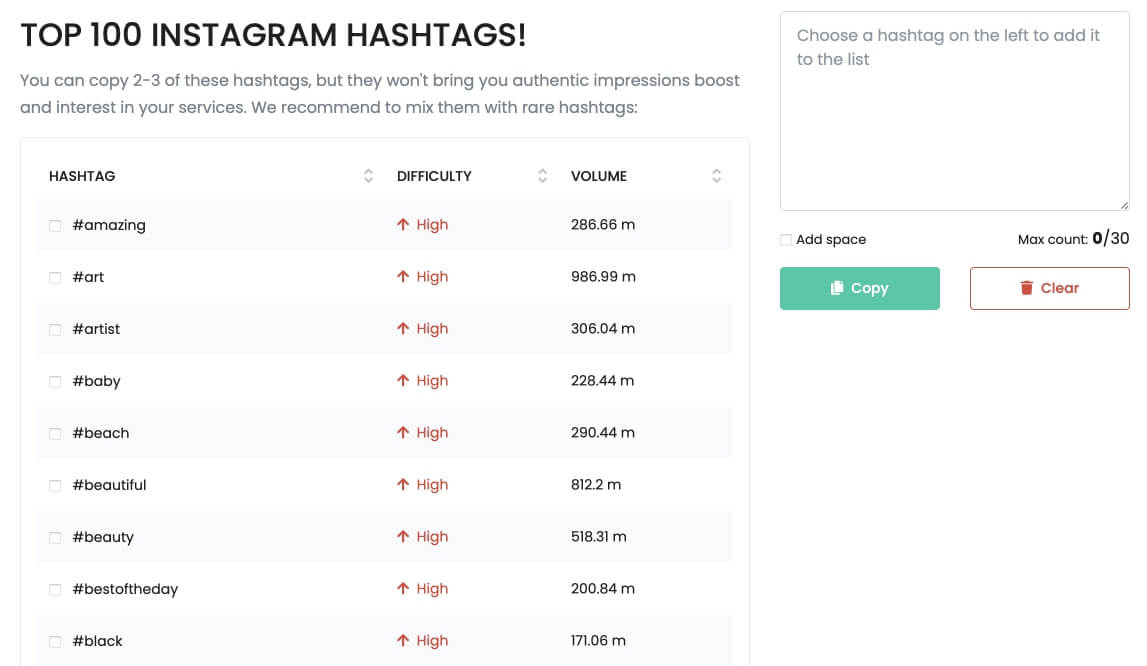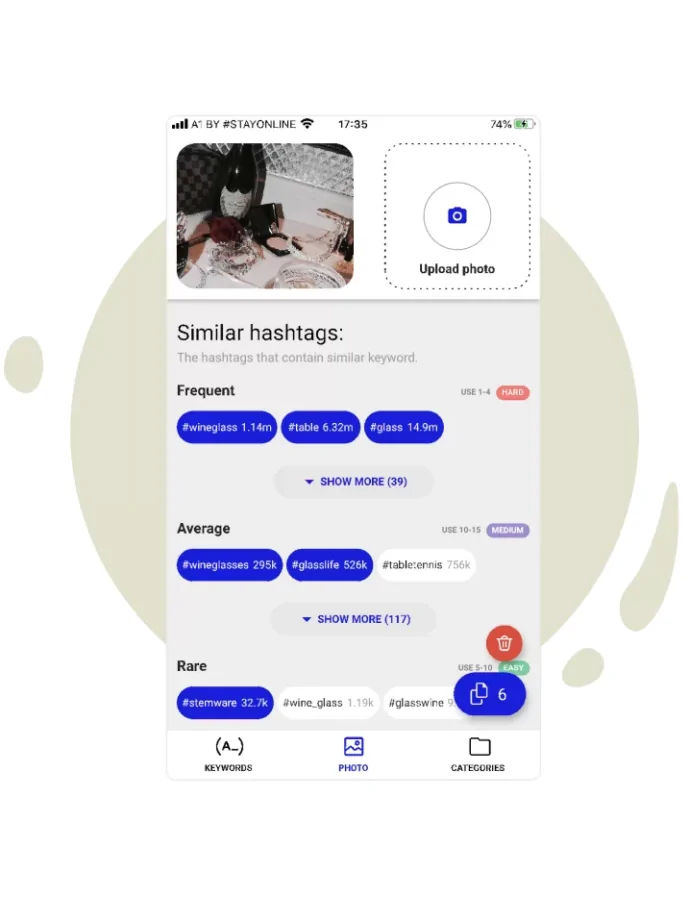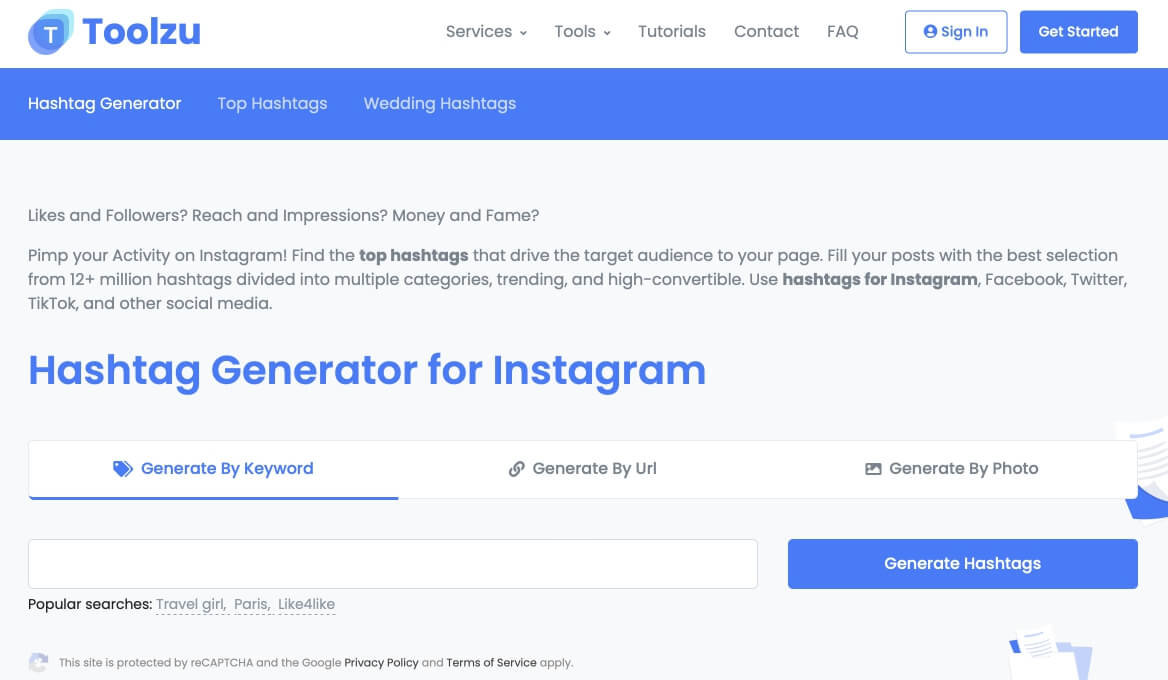 Quality
The hashtag set which I get for the picture by Toolzu is:
#glass #table #glasslife #tabletennis #wineglasses #glasswine #wine_glass #stemware #storage #interior #710community #champagnelover #taittinger #charlesheidsieck #vintagebrass
I like the detailed inspection by the AI. No other generator suggested #champagnelover for the image. And this is so important word to get more likes and follows for this specific post.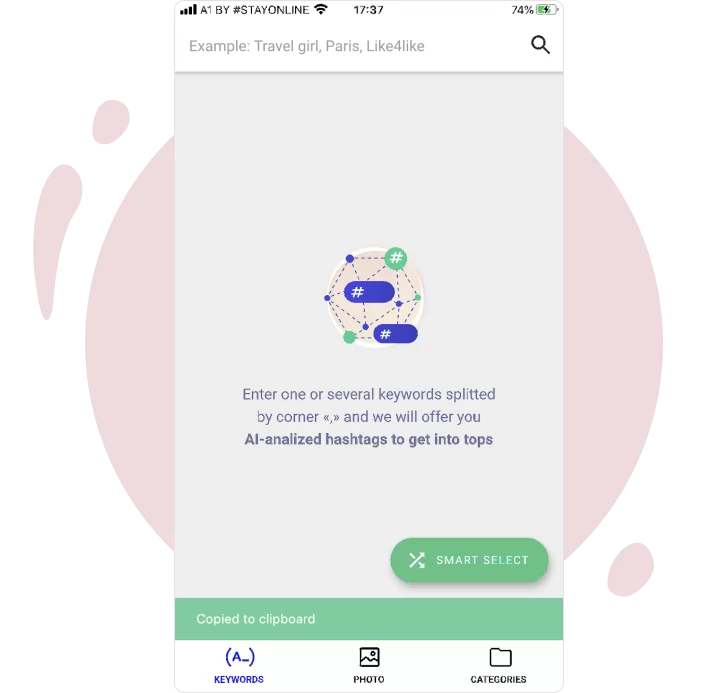 Usability
The usability of this service (in both versions) is on top. I love it for the simple and calm design and for a bunch of exclusive features like:
Generating by link. I simply using a link to my post and find new keywords for an existing post.

I also love the Smart select feature using in the hashtag Toolzu app. It is fast and furious as it is based on automatic cosideration. The AI chooses the set of suitable hashtags for using in the post.
Toolzu also never suggests using banned hashtags.
Price
Free desktop version. You also get many free hashtags available for display purposes, 3 days' trial – free copy and paste, then $4.49 a month.
#2 Ritetag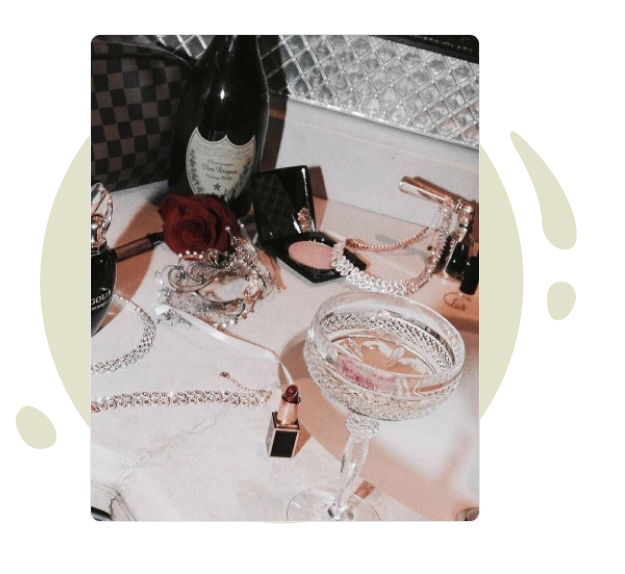 This hashtags-based tool is smart and really fast. You can get popular hashtags for your post in 30 seconds. The tool is speedy and accurate which is vital for media marketing in 2020. It offers rather unique hashtag sets which can bring a high engagement, reach, likes to your post.
Device Integrations
This one works both from desktop and mobile. But for me, mobile is kind of buggy and sometimes ruins the user experience by breaking off halfway through the work – just when I tap Copy it renews the page.
Quality
Here are keywords that the Ritetag hashtags generator suggested for the same photo:
#instawine #instafashion #table #glass #tableware #textile #drinkware #homedecor #glassware #wine #thirsty
It seems that all of them are kind of suitable for the content and I'm ready to copy them. The system mentions a few interesting things in the photo but doesn't name the obvious one. Also I don't like that it doesn't suggest to copy any niche related hashtags, or popular hashtags.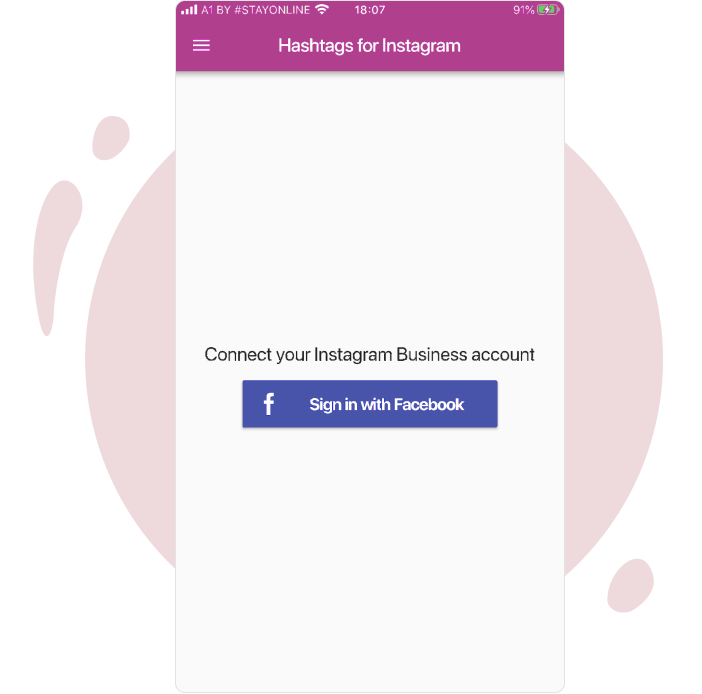 Usability
In the Ritetag app, I love the Instagram Integration feature. You can sign in with your Facebook or IG business account right to the hashtag generator – and find hashtags for your marketing strategy right from your account. It simplifies the process of posting so much.
A comparison of hashtags is a feature that is available on both versions of Ritetag.
I like this idea, as sometimes knowing which word is better to use is so important, as we only have 30 chances to be found at each post. Instagram is top amongst the social media platforms for influencer marketing, so if you're going to promote a person this feature is crucial to finding the right audience. The comparison of relevant hashtags' generator analytics also can take the hashtag marketing of a business account to a new level.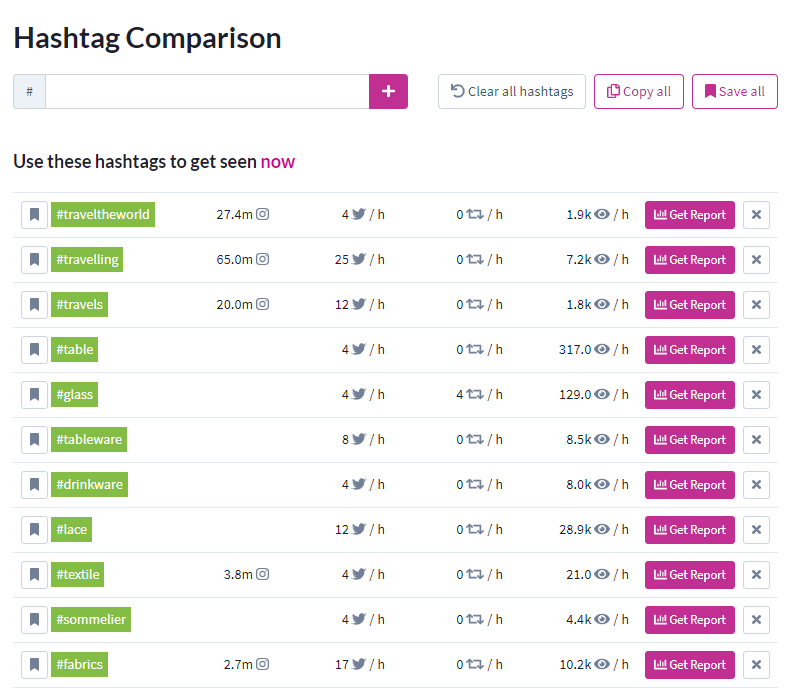 Price
$65 a month with other features of the service. It won't let you nor generate, niether copy without a subscription.
#3 Hashme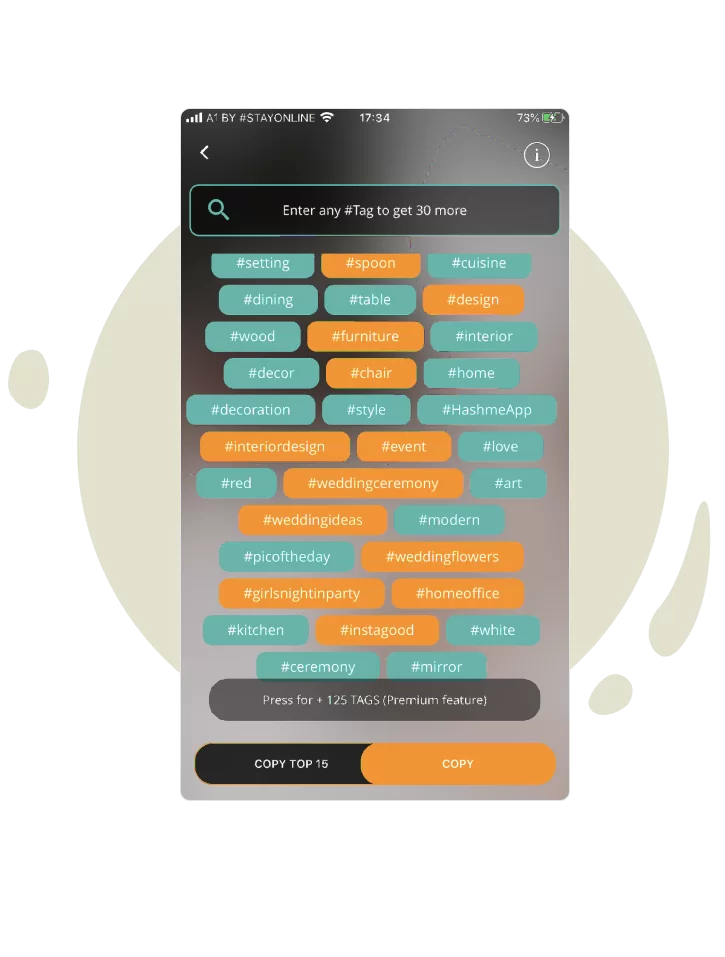 Device Integrations
This hashtag creator lets you generate hashtags in an app version only.
Quality
To be honest, the app is not so bad. That's why this is on the list. But I uploaded the photo I chose for this quality experiment and it showed the worst results. Suggested related hashtags are so out of place and non-searchable. I'd never advise you to add such top popular hashtags for your posts. Better to use not so popular hashtags but with a with long range. Not even worth to copy them:
#💒 #👨 #👩 #🔪 #🍾 #2️⃣ #restaurant #food #alcohol #drink via #HashMeApp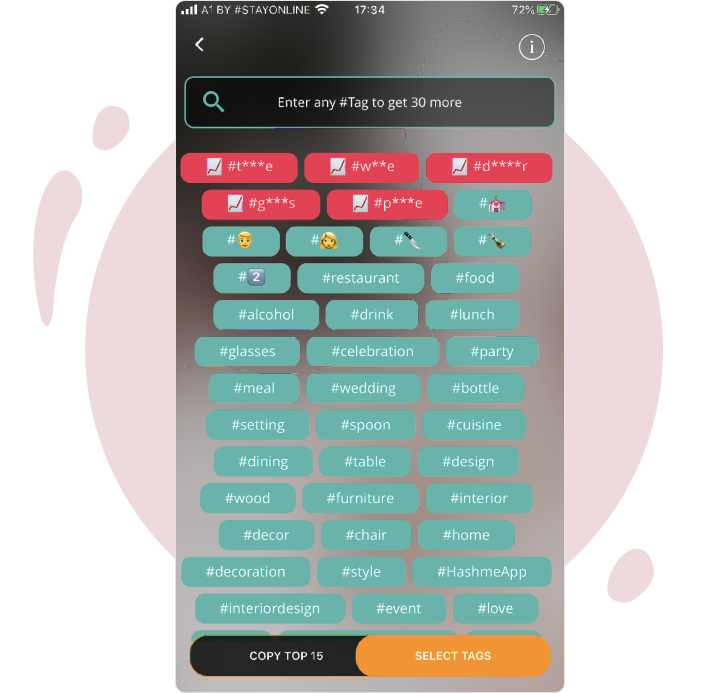 Usability
This is great for those who likes the ability to choose and use 15 top and popular hashtags in bulk. Copy them at once in the #Hashme app.
But I can't understand why they don't offer 30 top related hashtags to cover all my needs. It is rather problematic to search relevant hashtags to use in the post and add them manually without duplicating some words.
Price
7 days' trial then 8.99/month.
I hope the idea of automating your hashtag strategy will help you to save time and money on Instagram marketing. Use the generator which will work best for your account topic. I advise you to experiment and use a free trial before buying a subscription to any of the services offered. Take several photos or keywords from your account and try them out through the generators. Choose the one that suggests the most relevant hashtags for you, also put an attention which hashtags will bring you more likes. FAQ How Do Best Hashtags Help Me Grow on Instagram?
Reach is a great power to grow your Instagram audience and build a strong account, which will bring you money. Using top hashtags which are really viral and relevant for your topic can make your profile much more popular.
How Many Hashtags Can I Add?
The IG limit for hashtags use is 30. Most social marketing research shows that the best engagement rate can be reached with 7-11 hashtags. But my advice is to use as many relevant hashtags as possible. Each of these thirty keywords you use ( if they are best hashtags possible ) can bring you a fantastic reach boost. You never know which of them would play better so use as many as you can.
Won't My Account Be Blocked for Using Hashtags on Every Post?
Blocking is impossible if you use just 30 hashtags. The only recommendation is to use various hashtags on every post. Don't duplicate the same top hashtags every time to avoid getting in a shadowban.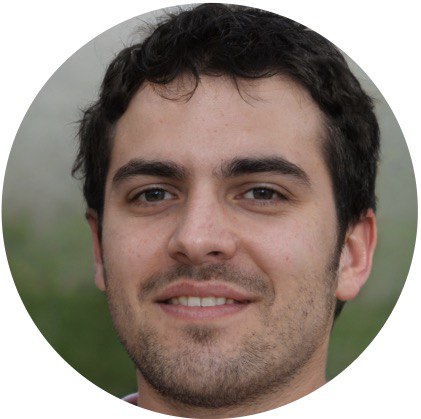 Written by
Alex