How I tripled The Instagram Shop Revenue In A Month
Effective date: 09/08/2021 13:17:49
I bet you understand how lucrative Instagram is for dropshipping shops, services, and big brands. By the end of this article, based on my personal experience, you'll discover precise tips ready to apply for any Instagram business account. If you put my advice into practice, in a short time, your business:
will get the audience interested in your goods/services;
convert this audience into leads;
attract influencers;
boost with UGC – user-generated content.
Several years ago, Instagram introduced a shoppable feed. This instrument suggests you people can buy directly on the Instagram account. Shopping posts gained a high demand – business owners have a chance to create aesthetic imagery, tagged with prices, and selling captions.
Many of us, Instagram-based entrepreneurs, ask tree questions:
What to begin with when setting aside the IG business?
Should I create an Instagram business account or not?
Can I have an IG shop without a website?
That's what the first chapter of this article explains: the basis of launching a shop on Instagram. Let's start with the cornerstone and move to a thriving example!
Instagram shop: what to begin with?
You have two options to organize your business on Instagram: switch a business account or use Instagram shopping. The first is the simplest.
The easy way – Set up a business account
A business profile on Instagram is a free option any users can put into practice when they need their account to function for sales and lead generation. The difference between a personal account and a business account is:
Improved analytics – you can monitor demographic and behavior data to adjust better targeting;
Direct contacting – clients can call, email, and reach your right from the IG profile.
So, use these free benefits and make your profile business. Better if you have a website you can put into your bio. But if you don't, you can organize your store on Instagram or Facebook. Nevertheless, this method has several limitations I'll explain further.
Advanced way – Upgrade to shoppable feed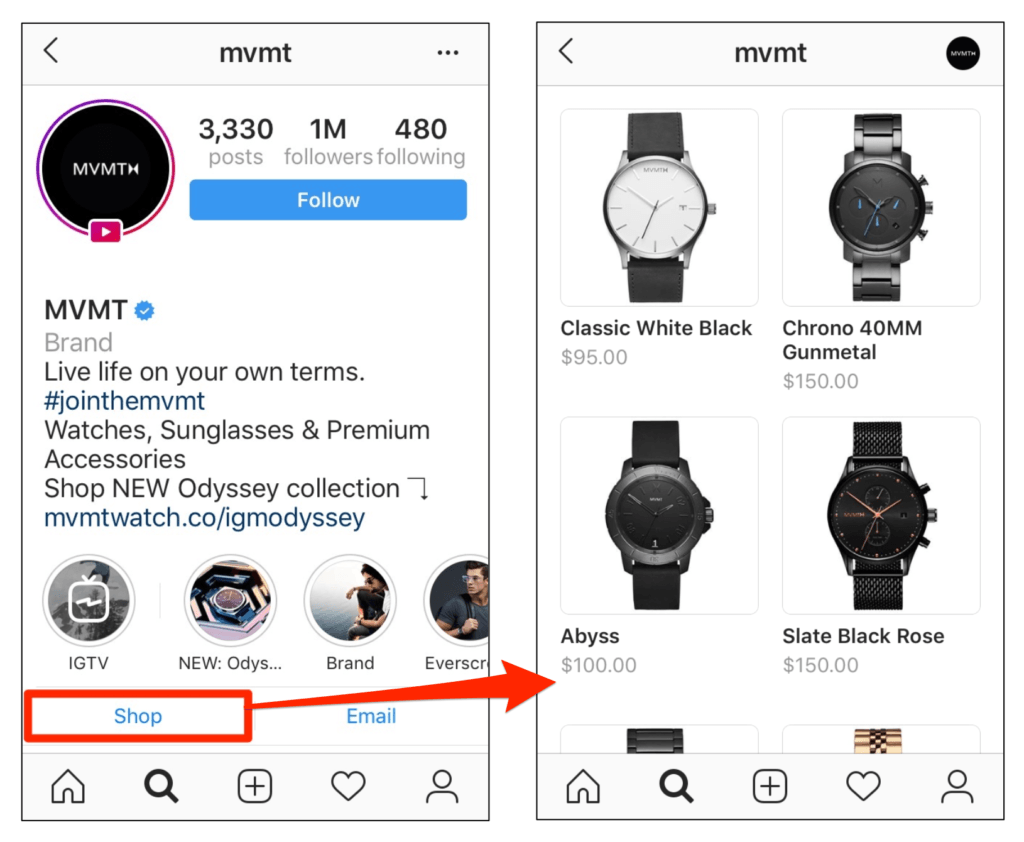 Tagged selling posts are a brilliant invention. But this luxury is available in the limited locations for now. Also, have in mind these terms:
Your shop must comply with IG policies and rules. Explore them on the official website.
You can only trade physical goods. The shoppable feed for services is not possible now.
Your account must be business and connected to Facebook Catalog.
If you feel comfortable with these rules and your country is on the list, I recommend you to operate the full-fledged Instagram store with many functions.
All in all, there are plenty of options to sell goods on the Internet without a website: with Instagram business page, shoppable feed, or Facebook catalog.
Going back to the primary question: How I increased my IG shop leads three times in a month?
Explore my strategy below!
Instagram business account: 5 hacks to triple sales
About the shop. Sunroom is a store with the finest tailored women apparel, jewelry, footwear, and accessories. All pieces are made by contemporary designers and artists all over the world.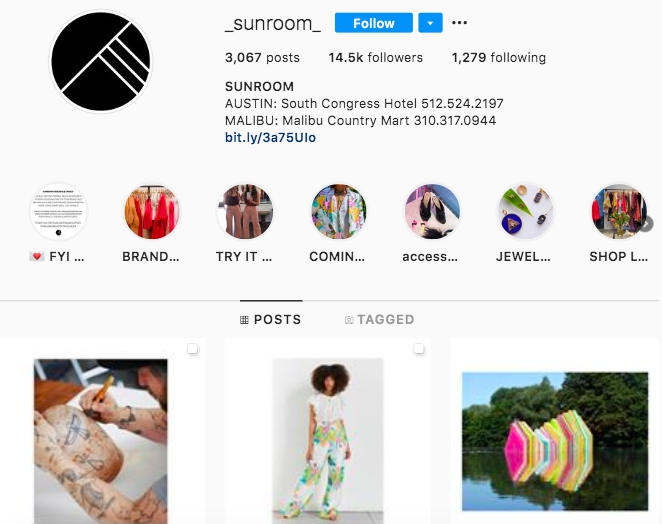 Challenge. My main goal was to find niche customers who are not just liking our Instagram content. But transfer them into loyal clients and brand admirers. Also, I needed to attract like-minded influencers.
There are secret tips I want to share with you. Pin them and adapt to your business:
# 1 Pro-hashtagging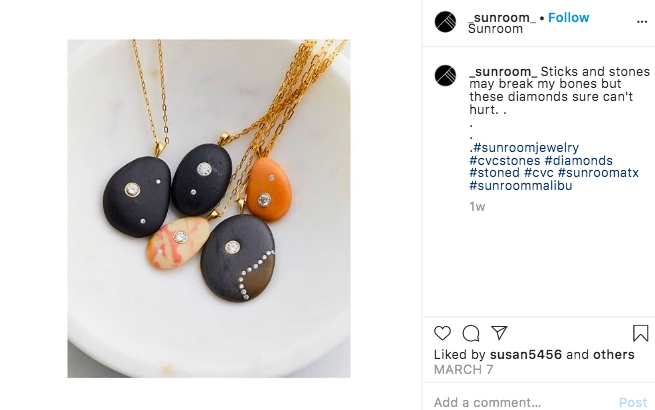 Many of you guys blindly apply hashtags missing the real power they have. Even mature SMM experts practice guessing. Stop it – better no hashtags than guessed! That is what I did with Toolzu Hashtags finder:
I defined keywords for these categories: my products, the brand, and the location;
I generated 4-5 hashtags sets for each category I saved in Google doc.
I tested them and indicated the best hashtags for Sunroom.
Now I put just several hashtags. But applying all 30 for the first time helped me to win over interested clientele very fast. I'm sure this trick will work for you
Let me show you the example for finding product niche hashtags: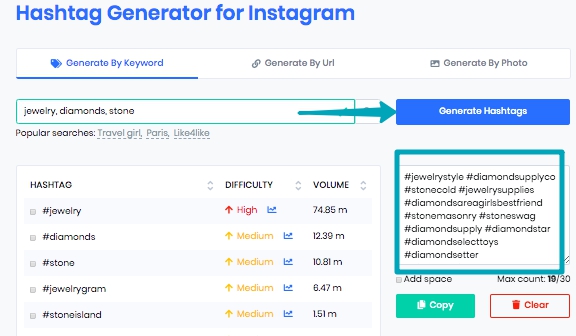 I typed keywords into a search bar – you can use up to 5 keys any language you want;
I copied 3 difficult hashtags, 10 medium, and the rest low or niche hashtags.
I mixed them up in my further posts.
And the miracle happened, thanks for business hashtags I got:
+145-200 new followers every day;
+150% website visits;
+295% more orders.
Eventually, I advise you to repeat this trick with the keywords related to your every product and location. Small business hashtags are essential for startups, while big companies attract their audience organically.
#2 Hashtags for navigation
I recommend every Instagram store selling several product categories to navigate through branded hashtags. This trick improves your brand's discoverability and assists the in-shop search. Example: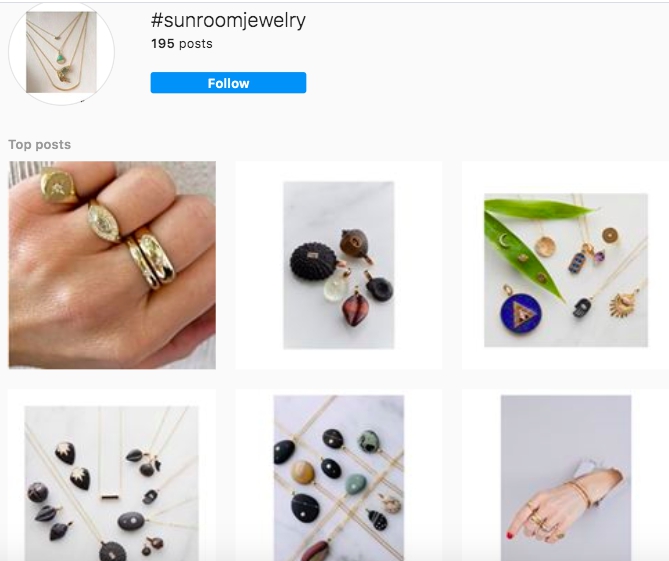 #sunroomjewelry – People tap this branded hashtag and view every piece for sale.
Create hashtags navigation for goods in stock, sales, hot offers, and discounts
You may put navigation tips in your Store's bio.
#3 Systemize UGC
Posts made by your loyal clients are the best-selling testimonials you shouldn't ignore. People would rather trust Amanda's Story review than a colorful banner in IG ads.
How to systemize UGC? You need a #brandedhashtag to explore the latest posts by your clients. Also, you can ask influencers and clients to tag your account in the caption or on the photo.
How to find people willing to cooperate with your IG shop? I use the Instagram search tool. It lets you to lets you explore IG accounts sorted according to niche, followers count, and gender.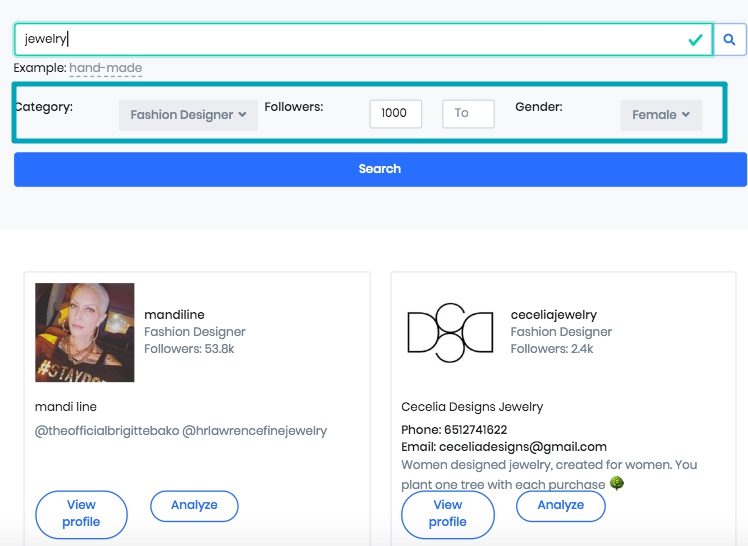 #4 Work with Influencers
If you sell for the younger generation, you should take into account their stardoms. And they are not Hollywood celebrities; they are next door Insta influencers and YouTube bloggers
In my influencer marketing, I use influencer marketing platforms, Instagram search tools I described above, and Profile Analyzer. Let me explain how the IG profile scan works.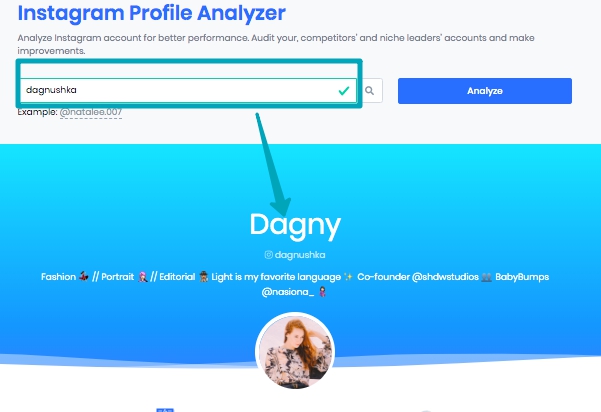 You just need to copy the name of a user and paste it here. Thus, you see the beautifully visualized stats helping you to decide whether to cooperate with this influencer or not. The calculated Engagement rate, influencer's activity, posting hours, TOP posts are at your disposal.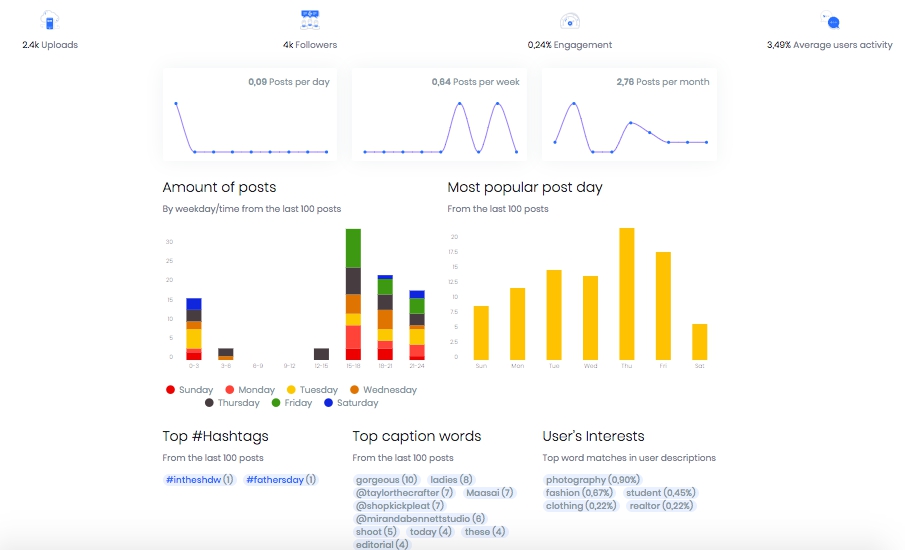 Convenient, and 100% recommended!
# 5 CTA is a must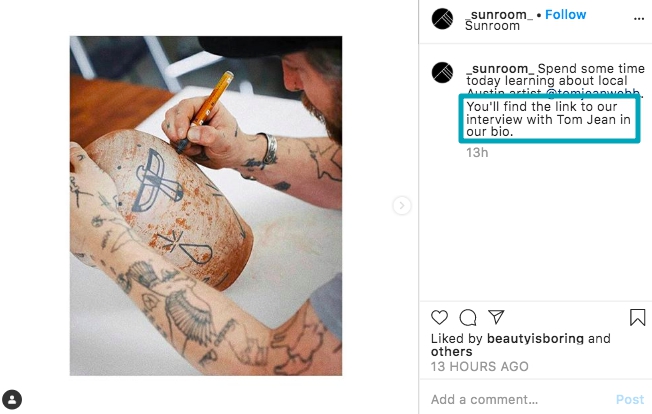 Post on your Instagram shop, have several seconds to grab attention in the feed, and spur people to buy. You should encourage IGers with a catchy call-to-action, better in the form of a link. That is a cornerstone of any marketing funnel.
Thus, people spend more time in your IG store, improving metrics that determine how Instagram ranks your content. The more time people spend within your account, the more they are ready to buy. Ask them:
to follow your link in bio;
to tag a friend;
to comment.
As you see, I direct my followers to the latest interview with Sunroom artists. I hope this content will inspire them to shop online and share insights with friends!
My final word
Business on Instagram is a lucrative income source for beginners and big brands. How to launch a store and make it profitable:
Set aside a business account or a shoppable feed on Instagram;
Generate Hashtags tied to your goods selection, location, brand;
Create navigation across your IG shop with hashtags;
Explore UGC and influencers with Instagram search and Profiles analyzer.
Call to action in 95% of your posts.
Following this simple strategy helped me to increase sales 3 times. I hope your earnings will be even higher! By the way, you can try the tools I mentioned in this article for free for 7 days.
Was this article helpful?