A complete Twitter header size guide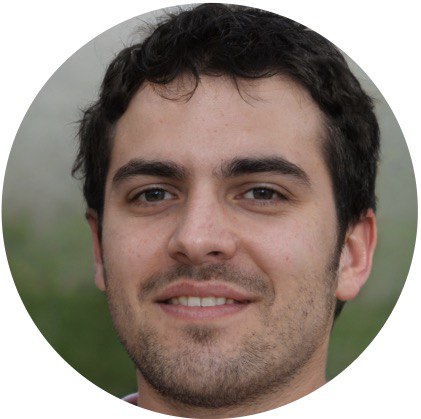 It seems that there is nothing special with a cover photo for Twitter: just find the favorite picture and download it as a Twitter banner image. But it's not that simple at first sight. The platform requires the specific Twitter header dimensions that sometimes are difficult to find. I mean an ideal image with such measurements, the quality of which will not be spoiled after the header downloads.
You should also consider that your Twitter banner photo is a primary thing that a person notices while coming across your Twitter page. Do you want to present your product with dignity and retain potential customers? Then, try to put some heart into banner settings and consider some tips. Which ones? These tips and additional important info you will find out further in the article.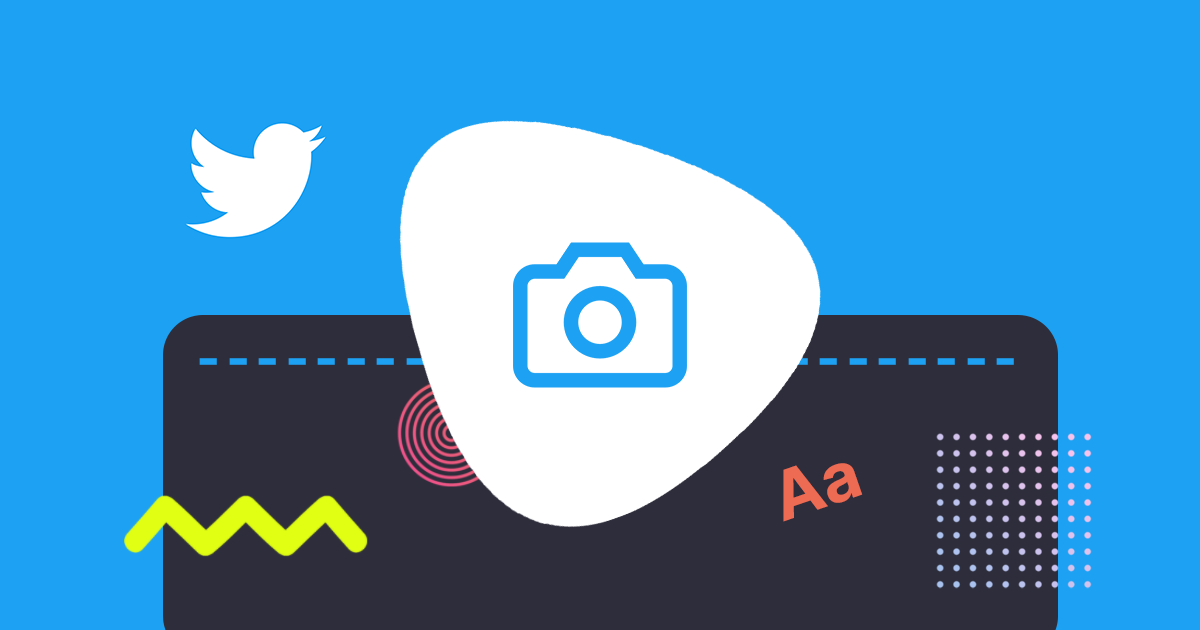 An ideal Twitter cover photo size
1500 x 500 pixels is a Twitter banner size that suits the Twitter page correctly, but you should consider that the safe zone (an image and its elements in this zone will be visible both in a phone and pc version) is 1500 x 360 pixels. That's why try to select those banner images, the main elements of which will be placed in the center but not at the corners.
Download a picture in JPEG or PNG format. A GIF format is also possible, but not an animated one.
The maximum image size is 2 MB.
A profile image size
400 x 400 px is an ideal image size for the Twitter profile combined with the right banner photo size. The maximum size is 2 MB. A format photo is similar to the header's format: JPEG, PNG, and GIF.
Note: profile picture location changes concerning a header depending on the device you use to browse Twitter.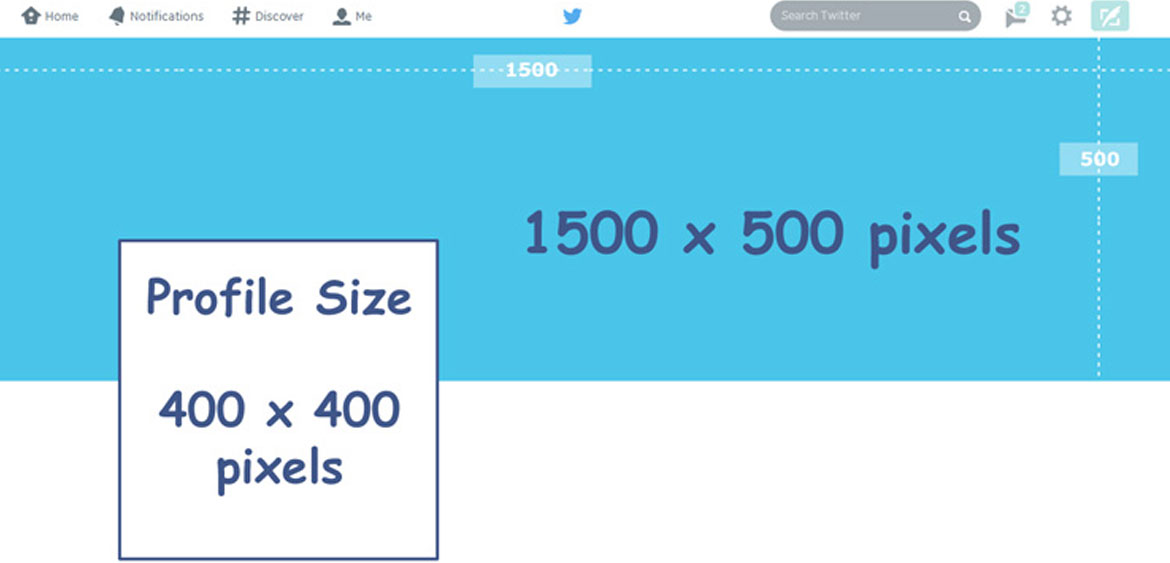 Tips for profile and header images correlation
choose Twitter banners with minimal elements or focused on the picture middle; otherwise, the details will be covered by the profile image or cropped;
place important info or brand name in the right or center as the left side takes a profile picture;
central parts attract more attention;
a profile image decreases in size while the browser squeezing and tent to the left side, so consider it while selecting images;
Twitter backgrounds/profile image dimensions will vary depending on whether you use the Twitter app on your phone or laptop. Don't worry, it's normal; just take it into account when picking out the size, format, and quality of the image;
look closer to Twitter backgrounds images without gradients, shades, and logos as they may lose their resolution or download the image with high resolution and ideal image size to save the excellent view of details;
after the image downloaded, test them to sure that all components included and each image in its place;
be prepared for the banner to be a bit compressed, even though you have taken into account all requirements for the size of Twitter cover photo.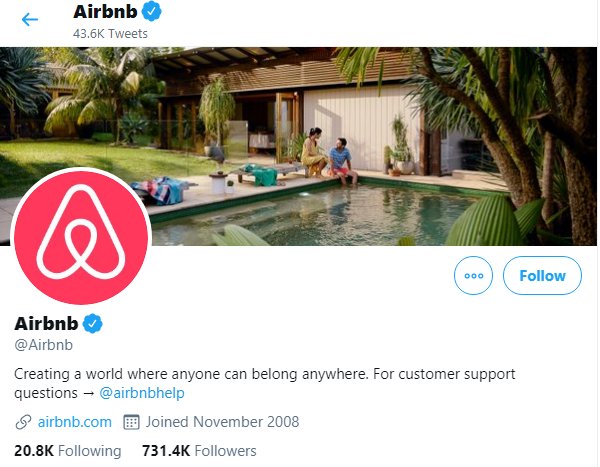 In summation
1500 x 500 px is an excellent dimension for a Twitter cover photo, but for important element placement is 1500 x 360.
400 x 400 px is for a Twitter profile.
good-PNG/ JPEG; you can, but I wouldn't advise- GIF.
2 MB is the max size.
place the critical info to the right or center.
leave space at the header top and bottom as these sides can be cropped while screen resolution changes or used in different browsers.
How to pick out the best Twitter cover photo
Nowadays, Twitter is quite a popular social network that is used by companies to promote their product. It is the Twitter headers that draw your attention while visiting someone's Twitter accounts.
Sometimes it is even more than just a catchy and bright picture-it is a chance to inform a "page visitor" about sales or a new product. The header image importance is not exaggerated; that's why I'll give you some tips about making the first visit to your page memorable for Twitter users.
No boredom
The best way to impact people is to arouse their emotions regardless of the sphere where you use this path of influence. I've mentioned earlier that a cover photo and a profile one are the first things a person sees while visiting your page. So, include more headers with emotional effects that demonstrate to a person something more than just a text. Try to explain with Twitter header quotes or image elements the benefit that a person gets with your product purchase and what emotions she or he will feel.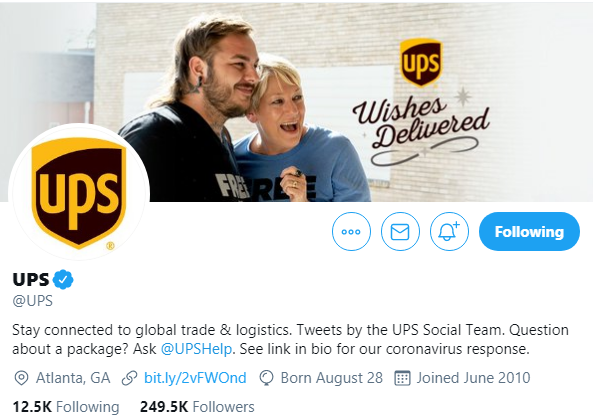 Look at the UPS profile, where the people's emotions are an excellent way to show how the UPS team affects them. They choose the emotional photo to demonstrate how useful the people for them are.
Yes coherence and logic
Connect your brand/product theme with a header. If a person doesn't immediately understand what product you show, he will unlikely wish to scroll your page and find more info. Just take into account that if you desire to benefit from your Twitter page, let others know about your brand at first glance.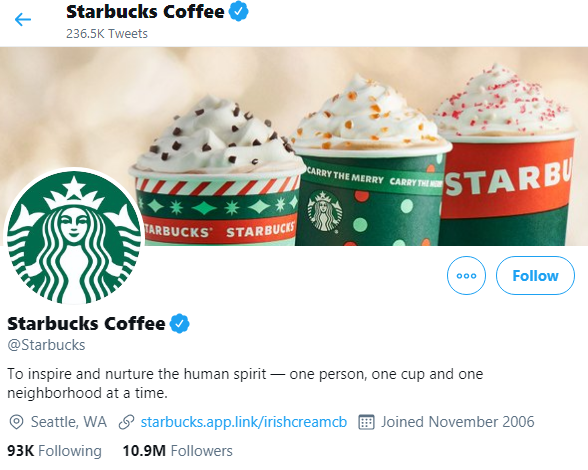 In case you don't know what a Starbucks Coffee is (which is unlikely as the name makes sense), look at the header, and you'll see the truth. The header reflects what the company does. It is the logic and connection between what you sell and what you represent on your Twitter banner.
Make it simple
Create text that is easy to read. No more than three simple sentences; otherwise, people will realize that it's complicated in the beginning why I need to deal with it. Describe your product and its benefits on your page but no on the banner. Escape the "sundries," draw attention with simple words, emphasize important information that the first reader should know, and leave him on your page to further study your product.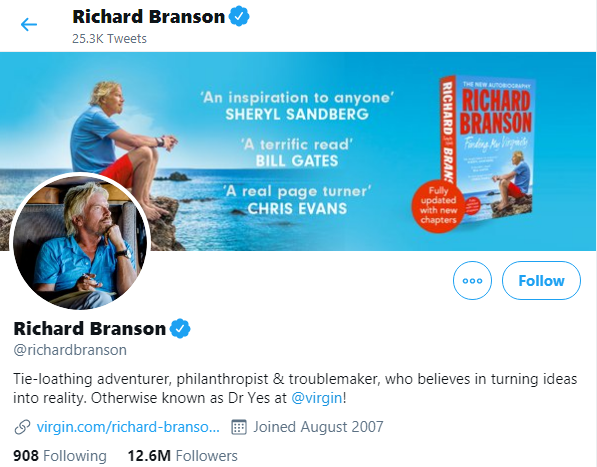 Twitter cover photo ideas. Resources
We have considered the exact dimensions and some tips. The next logical question is where I can hint out or create my headers? I know the answer. Observe the best photo resources I choose for you. Explore them and pick out those that will be the best solution for your brand progress.
Canva
Canva platform is designed for those who desire to create cards, leaflets, flyers, and banners. Explore a user-friendly interface to design your Twitter header with ready-made patterns or your downloaded photo. Pick the colors/shades, additional elements, text, and save your masterpiece in high-quality dimensions.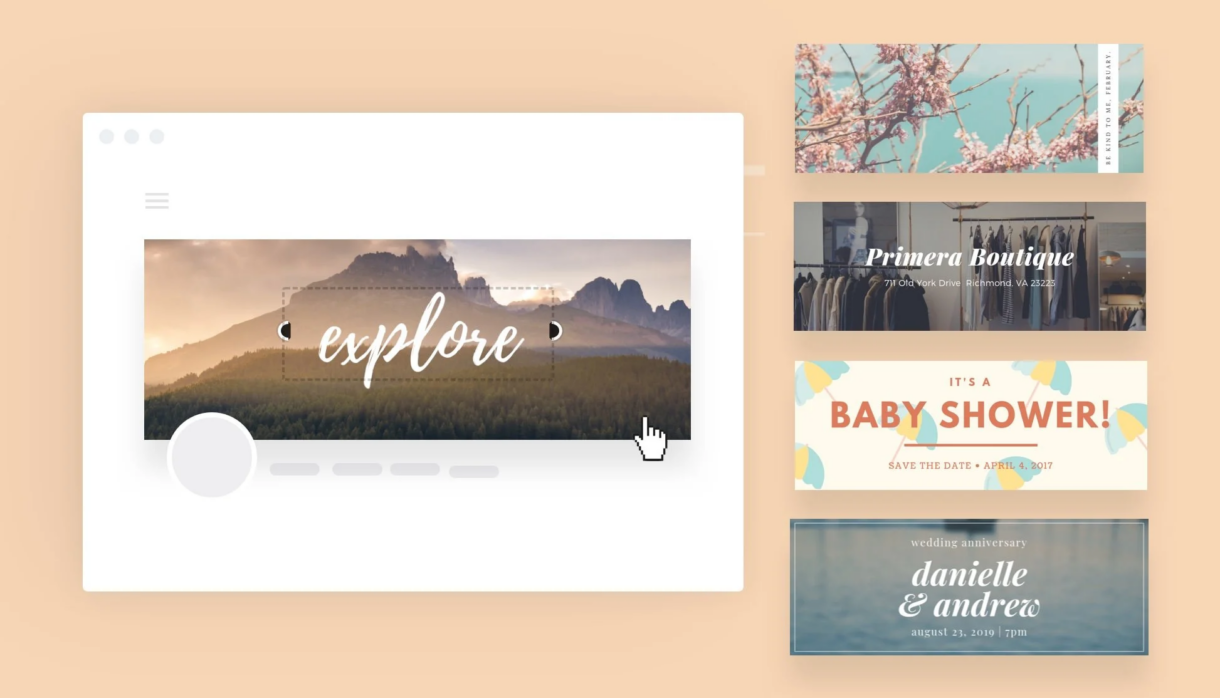 Bannersnack
Use Bannersnack Twitter header maker to generate your image or explore the existing Bannersnack templates to impress the Twitter users with product targeting header. A simple interface will assist you in getting the header of your dream within minutes.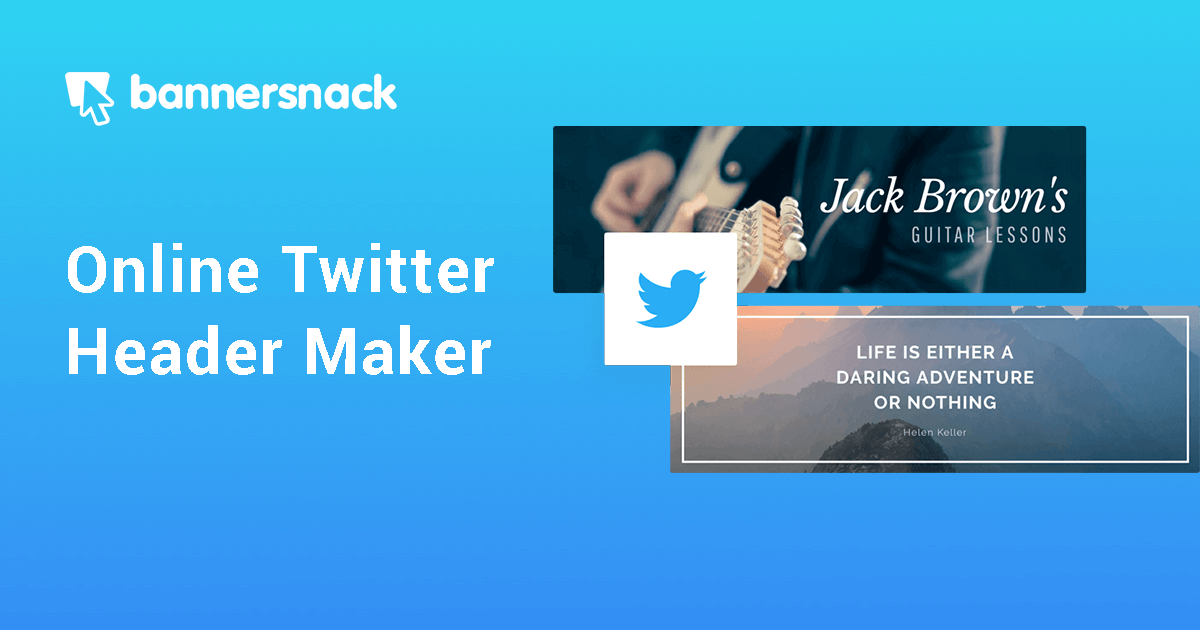 Adobe Spark
Adobe Spark tool has a set of instruments that make header creation way easier. Use templates, backgrounds, themes, texts, or quotes insertion into the header.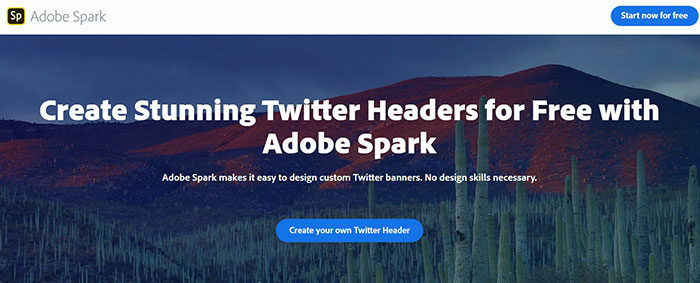 Crello
With Crello header maker, you have an opportunity to pick out from about 30000 templates in different themes and for various spheres. You may download your photo and work with it. Use the tool's instruments to design your header adding texts, colors, details, and appropriate size.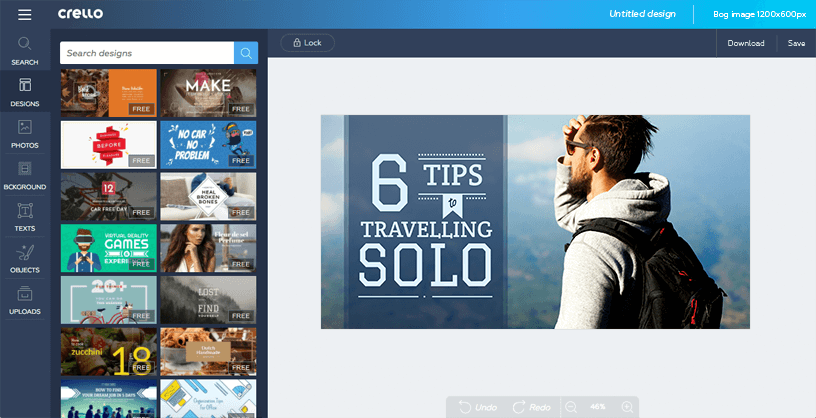 Fotor
Fotor platform has both the ready headers templates and tools to create your background images. Apply effects, filters, stickers, use the collage option to design the Twitter cover photo you prefer.

The last thing
Take Twitter headers creation seriously, as it is an integral part of your brand progress. Download the header of 1500 x 1500 px and the profile of 400 x 400 px to get a good correlation between the former and the latter.
Use special tools and resources to get an ideal high-quality Twitter header to present your company, product, or services at your best.
Connect the header with your business and make people want to buy the product by looking at your cool Twitter cover photo.
You have an opportunity to show expertise and taste with just one main Twitter picture.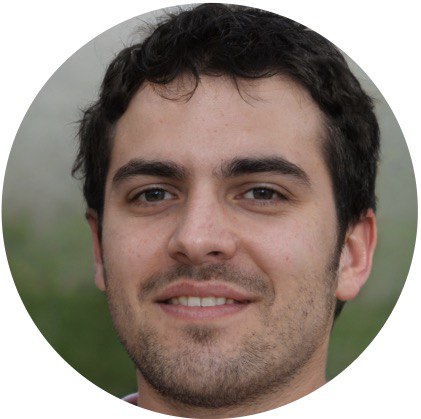 Written by
Alex