Instagram ads: answers, examples, and insights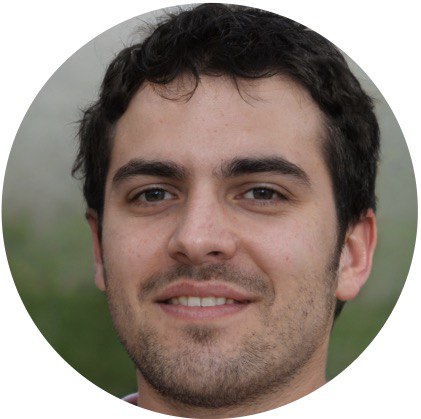 I'm sure you have come across Instagram ads. Some of them you can skip, some of them boost the interest and stimulate to buy, subscribe, and follow the link. But when it comes to getting started with the Instagram-Facebook campaign from scratch, you are likely to wreck your brains.
What ads work best on Instagram?
Shortly – ads in the forms of videos and carousels, designed in bright colors, with high-quality imagery and short captions. I've collected the best Instagram ads examples in 2020 – Zaful, New York times, Gap, 8fit's, and more. By the end of this article, you'll learn:
Instagram ads – answers to the frequent questions;
5 Best practices with examples;
Tips to take away for your Instagram creative advertising.
Grasp working tips and enhance the result with the best Instagram promotion toolkit!
Instagram ads: Let me answer your questions
Are ads on Instagram beneficial?
Yes. Ads is a beneficial option for businesses and small companies with various budgets and a part of a marketing funnel. Static ads and dynamic videos streamline the audience to your lead page and help you to estimate the customers' portrait thanks to statistics.
What is the best timing for IG ads?
Technically the length of Insta video can be 60 sec, but according to surveys, people don't watch the episodes to the end. So the first 20-30 seconds are crucial the catch the eye and put the most significant data. Usually, the audience that was hooked in the first 20 seconds follows the link you provide your add with.
Is Instagram ads costly?
Instagram ads cost according to cost per click or cost per mile. Depending on the engagement, companies pay $0,2-3 per click. In the second scenario, the price varies around $4-5 per 1K viewers.
Now I'll show you Instagram ads list with the most winning ideas you can put into practice. I'll also explain the takeaways and strength leading advertisers have been showcasing. You will view insights I've found on the Facebook ads library and examples right from the Instagram feed.
5 Best Instagram ads examples
#1 Zaful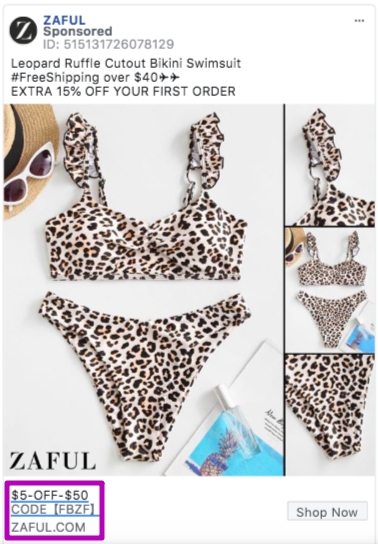 Zaful is a retail apparel brand using a winning idea in its current Instagram ad campaign.
Despite the fact this ad is static, it catches eyes thanks to the mosaic layout representing the details. This hack is useful if you need to display your product in several aspects. A discount, coupon, and CTA on the button convert viewers into buyers instantly.
What hacks to test in your next campaign?
Mosaic collage. Cut the image into blocks to convince customers your product is good from every angle. Crucial for beauty products, retail, any kind of physical goods.
Create a carousel. Don't wreck your brains on what images to add to the next carousel – add the closeups. The thick trick has proven an overwhelming effect!
Give a discount with a promo code. Using promo codes is a working idea to measure how many purchases each ad resulted in. That's how you figure out the best-working trend.
Put hashtags. As you see, the Zaful ad contains the hashtag #FreeShipping. Though this hashtag is broad, the idea to mentions hashtags in a caption is working cause these words coming out into the light. Plus, it makes ad searchable.
Find niche hashtags for your business with free Hashtags generator for Instagram.
#2 The New York Times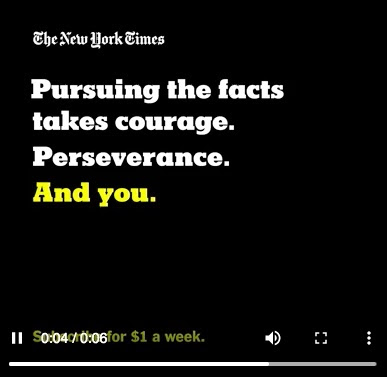 Why is this ad good?
This video ad by NYT is simple, well-designed, and extremely eye-catching when scrolling the Feed. Firstly, the dynamic ad is a win-win decision anytime. But the NYT proves, it shouldn't be costly – no actors and 2-D animation are needed. Monochromatic background, two contrast colors for typography, and exciting fonts do their job. Mind, the ad dimensions are to fit the Insta requirements of 1080×1080 px.
What hacks to test in your next campaign?
Short copy + catchy font. Try different fonts and estimate how to they look in the Feed. You might need a designer's eye if you can't figure out on your own. Short phrases aligned to the left is an everlasting trend easy to apply to bring your message to life.
Put your logo. This is smart trick improves brand awareness and improves the overall design. In this case, you should find a matching font to your logo typography to make the ad well-balanced.
The contrasts are cool. Moreover, when you create an ad containing a bold background with a copy, the message should be readable and bright. For this reason, contrast is what you need. Discover how different color combinations influence people's minds and make a wise decision.
#3 Gap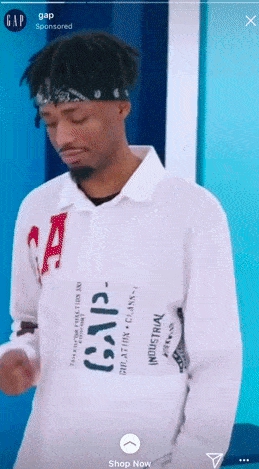 Why is this ad strong?
Gap implemented a very creative approach to win over its millennial shoppers. The point is the campaign creators embedded in the Story ad the images of youngsters in their natural environment. They speak the language of the audience. Plus, short-form Stories are visually-striking thanks to music resonating with their target audience.
What hacks to test in your next campaign?
Create Stories apart from ads in the Feed. Recently, the advertising visuals placed in Stories have proved better engagement than Feed.
Match with your audience's tastes. It might be challenging to create ads that will grab the eyes of Millenials – you should research their influencers, latest trends in music, and visual culture. Otherwise, you won't sell.
Embed Stories features into the clip. Use stickers, GIFs, pinned captions to make the Story less commercial and more traditional to what people view in their peers' Stories. Thus, your brand will be more engaging for social media conversation.
What were the results of this campaign?
As this ad is fulfilled and the previous I mentioned here are still going on, the outcome of the Gap promotion is public.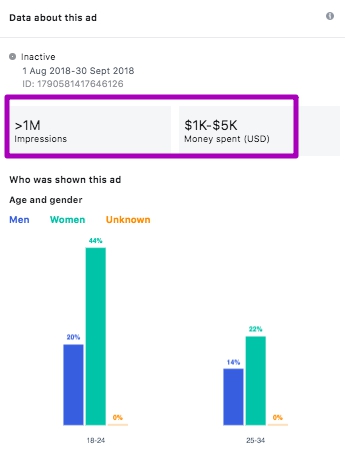 Dance-filled Story paid off in over 1 million impressions! Moreover, the effect boosted the click-through metrics in future commercials by 74% – long-lasting repayment! The brand has received +300% pre-orders for the featuring collection from target clientele.
#4 8 fit's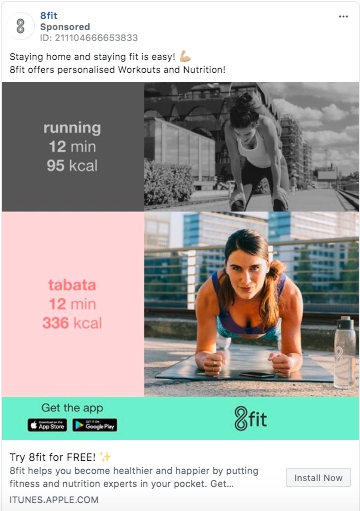 What makes this ad good?
8fit is a lifestyle app helping people to improve healthy habits. In the latest campaign, this health and nutrition brand uses the Coronavirus moto – Stay home. And it offers what the audience is seeking for – health and fit. That's a good idea to organize a static ad in the form of collage with will-arranged informational blocks. Before-after + what to do enhanced with specific numbers and real person images is a win-win trick – brava!
What to adopt in your ad:
Use before-after contrasting. Prove your product is effective by real experiences and visualized results. This works for the people psych immediately – much better than a marketing slogan.
Contrast colors. Before and after comparison should be highlighted with color aesthetics. Use red and green, pink and blue, or any other that is easy to read.
Organize messages in the grid. Use collage as a layout so that your ad's messages could be easy to notice at a glance. Remember, people, scroll static ads pretty fast, so it must be attention-grabbing and clear.
Include numbers in the copy. Numbers specify how good your product or service is in actions; people trust one number and stats more than hundreds of words.
Place the word Free. All of us got hooked on this simple trick; it still works. People are looking for offers and are likely to give a shot to something that is free.
CTA. Use "Get," "Start," "Register," so that people get they need to take action.
#5 HubSpot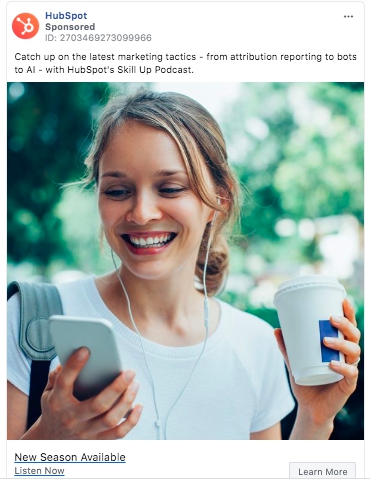 What are the ad's strengths?
HubSpot's latest ad campaign is classy yet effective. They put just the bold image of their target customer. It's essential because Instagram viewers could easily recognize the ads are created for them and pass to the text.
What to adopt in your ad:
Use images of people. According to the stats, people are likely to notice the ads on Instagram if a human is presenting. The hero should look like your client or your client's wannabe. Don't place overused stock images. Do a photoshoot or use rare stock images for the first time.
Make it simple. A bold image without any copy can also work well.
High-quality imagery. It's crucial that a photo you put into an ad is five-star bright and clear. Otherwise, people will keep on scrolling.
Announce something new. New season, a new collection, new arrival are always winning Instagram users' attention. Psychologically, people want to keep up with the latest trends and will tap your link.
My final thought
I hope the selection of best-selling Instagram promotions has sparkled up your creativity, and you know what the perfect ad should be like. Do your own research in the Facebook ad library and follow the updates on this article. I'll be happy to see your insights in comments!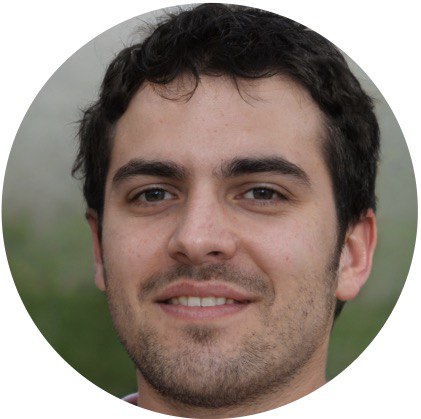 Written by
Zack Pothier